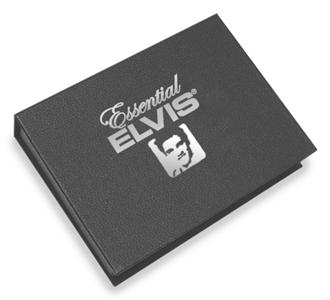 Essential Elvis

Press Pass is proud to announce the limited edition release of the most upscale Elvis trading card set to date, Essential Elvis. This 35-card base set is printed on premium quality silver foil board and honors The King of Rock 'n Roll on the 35th anniversary of his passing.


Each 7-card box will contain THREE HITS PER BOX, including at least one autograph!

The first dual, triple and quad relic cards of The King!

Essential Materials - relic cards featuring the most expansive lineup ever of Elvis-worn clothing
Look for "King Size" over-sized pieces!
Essential Signatures - the most comprehensive list to date. Includes the first ever autograph cards from the legendary Mary Tyler Moore!

Historic Cuts - Elvis Cut Signatures, plus a dual cut with his father, Vernon Presley!
JUST ADDED! Elvis Cut Signature + Relic card!
Look for Essential Sketches - hand-drawn sketch cards from renowned artist, Joe Petrucio, each numbered to 20 or less!

Releases February 1, 2012